Measurement based mental healthcare made easy
Automatically track patient progress, make measurement-informed decisions, and get reimbursed for doing so with Blueprint.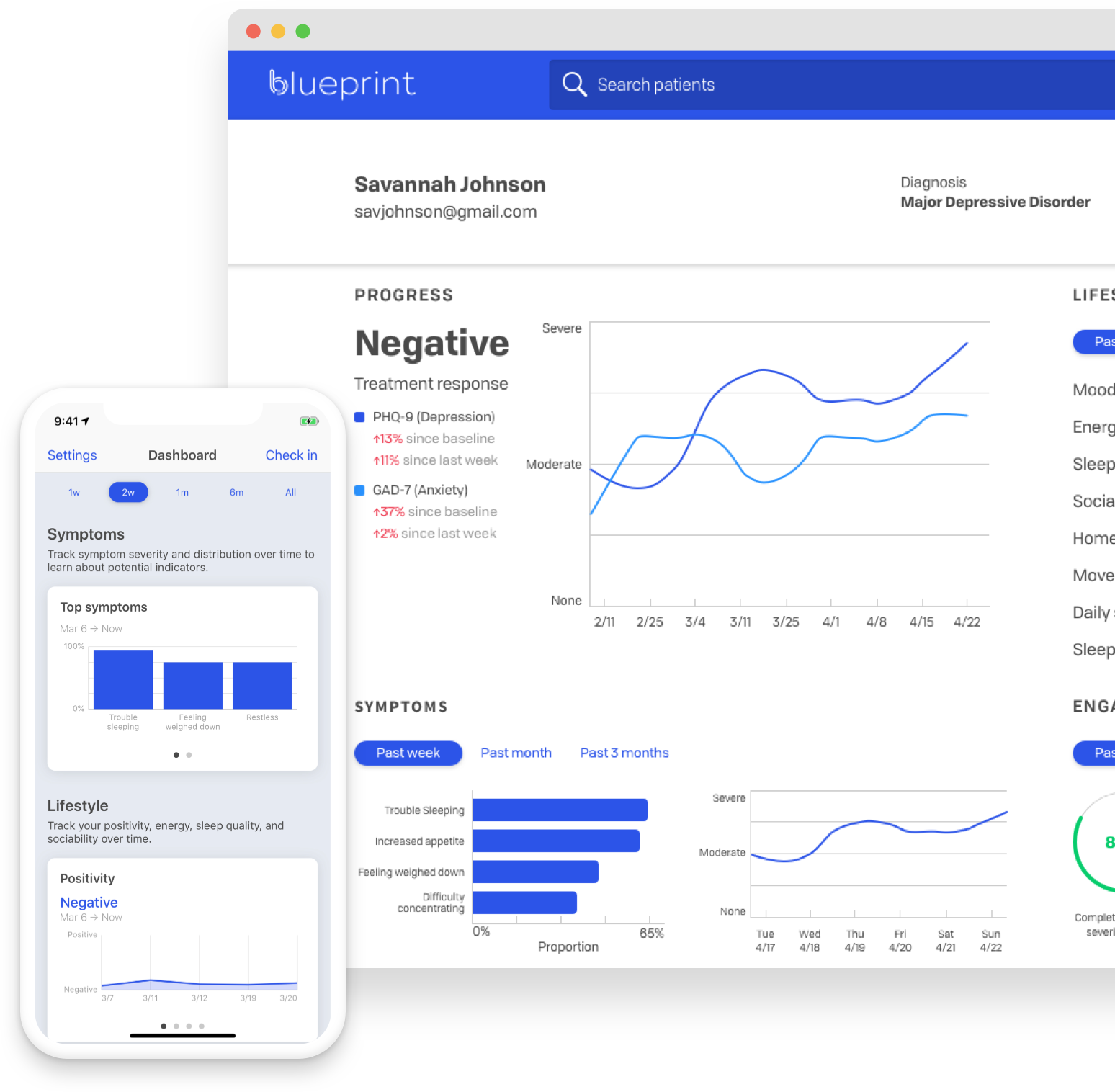 Automated assessments
Easily track patient progress with personalized assessment plans.
Actionable clinical insights
Leverage patient-specific insights to deliver more precise data-driven care.
Seamless reimbursement
Collect reimbursement for each assessment, without the headache.
Automated assessments designed to save time
Collect valuable evidence-based measurements between appointments without adjusting your clinical workflow.
Start administering personalized evidence-based assessments to patients without disrupting your workflow. We combine gold-standard scales like the PHQ-9 with our proprietary daily check-in measures. Blueprint automatically delivers, scores, and charts the results for these assessments so you can spend less time filling out paperwork to track progress and outcomes.
Request a demo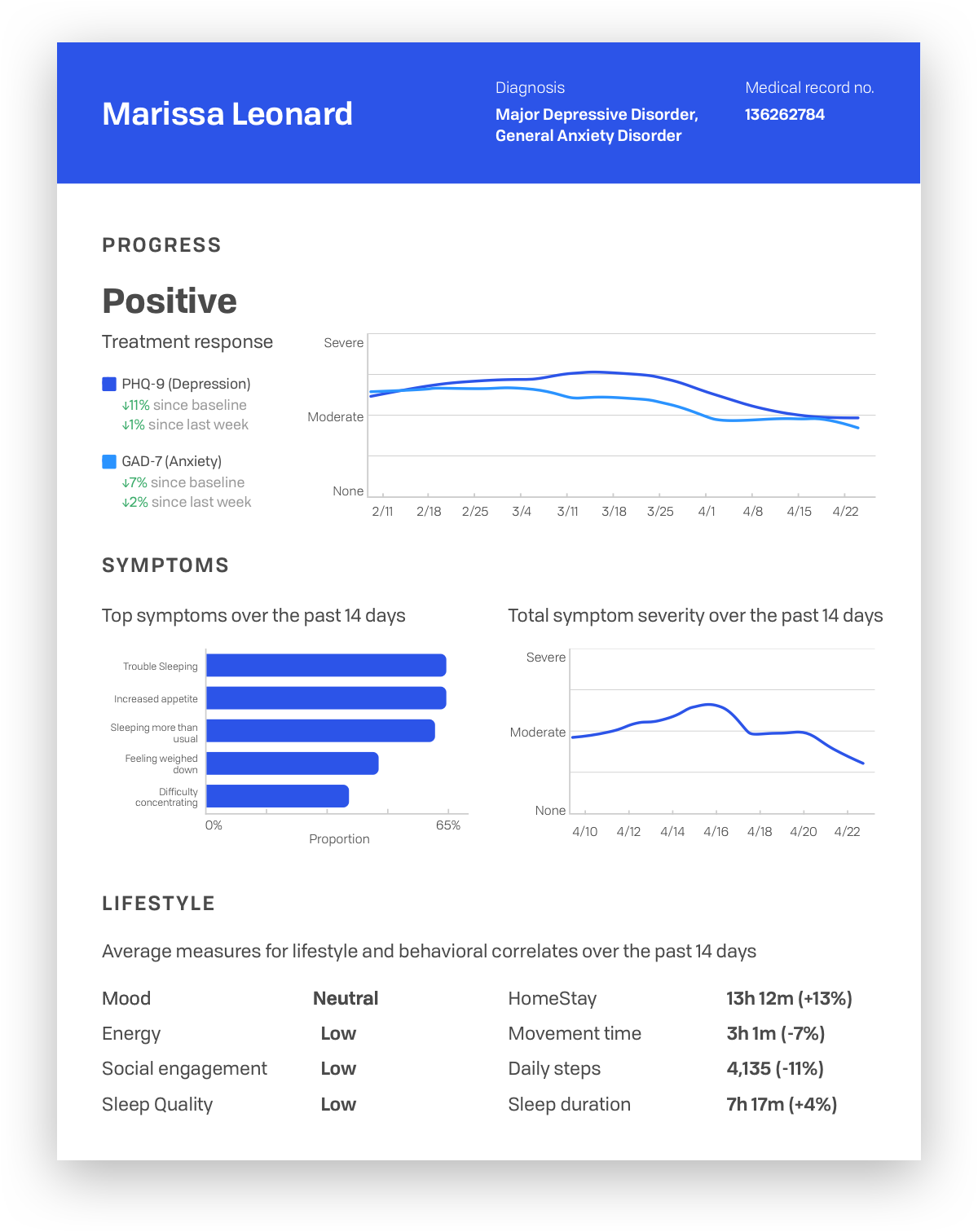 Actionable clinical insights
Measure patient progress and translate findings into personalized treatment decisions.
Blueprint makes it easy to track patient progress and translate findings into personalized treatment decisions. Our reports are embedded with patient-specific insights derived from real-world evidence to empower clinicians with the necessary data to improve patient care.
Request a demo
If you see...
patients per week
You can collect an additional...
per year
Seamless reimbursement
Earn up to $15 in remibursement for each completed clinical measure. We take the headaches out of the reimbursement process.
Each time your patient completes an assessment through Blueprint, you are eligible to collect up to $15 in reimbursement from insurance. We make the billing process simple to help you reap all the benefits of measurement-based care without having to spend any extra time dealing with insurance.
Request a demo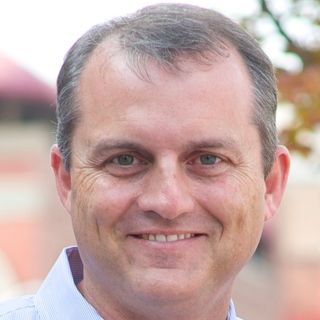 Chris Faulkner, LCSW, Co-Owner @ Family Solutions - Greensboro, NC
Blueprint's measurement system is easy to implement, maintain, and utilize with clients. Clients love it and it is easy to administer outcome measures because the Blueprint mobile app does all the heavy lifting. As a result, clinicians gain access to valuable data without having to spend time and energy collecting it themselves.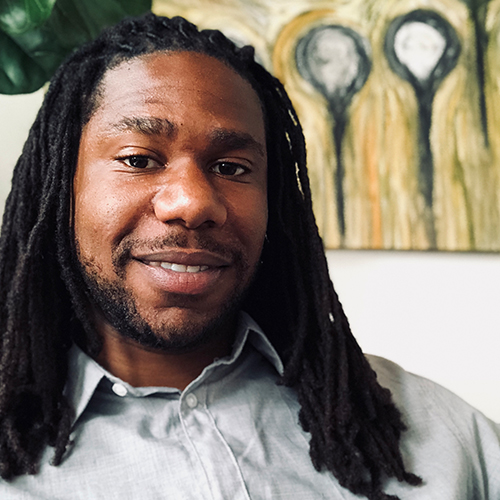 Stephen Jenings, M.A. Therapist - Chicago, IL
I have found the Blueprint app to be a tremendous help to my work with clients. With the app I have been able to target specific symptoms and interventions discussed with my clients in a way that just wasn't possible before. It is known that a common flaw of self report assessment is memory, this app allows my clients to record their responses in real-time. Also, not only am I as the clinician able to track the clients symptoms and patterns overtime, but the clients themselves are also provide with information allowing them to see there own patterns. I recommend Blueprint as a helpful tool to those looking to add more real-time assessments into their work.

Dr. Utpal Dhruve, MD, Psychiatrist - Chicago, IL
Adding Blueprint to my clinical practice has been amazing. It was extremely easy to implement and my patients and I get clear information of their health in between visits which improves outcomes. It fits into my existing workflow and enables me to collect additional reimbursement revenue.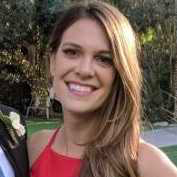 Danielle Erwin, Clinical Psychologist - Orange County, CA
What I love most about Blueprint is the ability to select from an exhuastive library of outcome measures that match each patient's unique needs and concerns. My caseload consists of patients with a wide range of mental health conditions, and this feature is essential. Thank you Blueprint team!
It works.
Our platform is built on top of decades of research supporting measurement-based care. Virtually every randomized controlled trial (RCT) has shown that measurement-based care improves patient outcomes and reduces the time-to-remission.

We're focused on making this research easy to implement at scale.
Is Blueprint HIPAA compliant?
Yes. Our platform is hosted on AWS and all data is encrypted at-rest and in transmission. Before we start measuring patient outcomes, we'll sign a Business Associate Agreement (BAA) with you and/or your organization.
Am I required to check my patient's results between appointments?
No! You're able to log in and view your patient's profile whenever you want. Most of our clinicians pull up their summary report in the 5-10 minutes before an appointment and/or for the first 5-10 minutes during an appointment. Think of us like a handy assistant, providing you with insights at your fingertips when you need them to help guide the clinical conversation with your patient.
Does Blueprint integrate into my EHR system?
Yes! We'll integrate directly into your EHR system and your clinical and billing workflows. When you sign up, we'll create a kickoff and integration plan to make sure Blueprint is not adding extra burden to clinicians or administrative staff.
Which assessments do you have on your platform?
We've built up a robust library of gold-standard evidence-based assessments that you can choose from. Just to name a few: PHQ-9, GAD-7, EAT-26, Altman Self-Rating Mania Scale. If we don't carry an assessment that you want to administer, we'll happily upload it to our system so you can start automatically collecting results through Blueprint. We also deliver proprietary daily check-in measures which can be configured to collect frequent snapshots of mood, energy, symptoms, and more.
Request a demo
Fill out the form below to set up a conversation with a Blueprint representative.